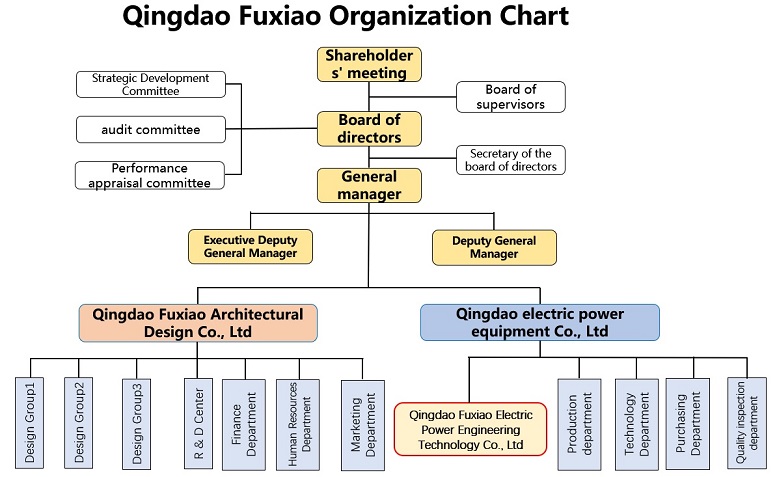 Founded in 2004, Qingdao Fu Xiao (QDFX for short) is a professional company offers design and manufacture service of steel structure. Qingdao Fu Xiao Architectural Design Co., Ltd. and Qingdao Fu Xiao Power Equipment Co., Ltd are two subsidiaries. Based in Jiaobei Industrial Park, which locates in Qingdao Jiaozhou of Shandong province, QDFX's main business is for detailed design and manufacture of steel structure in power, metallurgy, chemical and architecture industries. QDFX gains ISO9001 Certification and possesses many industry's leading qualifications, such as Level-one Certificate of Steel Structure Manufacturing, Grade A Detailed Design Certificate of Steel Structure, First Class Certificate of Pressure Vessel Manufacturing.
Qingdao Fu Xiiao Architectural Design Co., Ltd. (QDFXAD for short) concentrates on detail drawing of steel structure, fine calculation of steel node, modified design of desulfurization and denitration, design of complex steel structure and consultant for steel structural optimization. The company has 2 national first class registered structural engineers and more than 50 professional designers with senior titles. Using domestic and international famous software such as Tekla, Staad Pro, Midas to make 3D design and structural calculation, QDFXAD has reached an annual capacity of 200 thousand tons steel structure details. With design experts, young and dedicated professionals, QDFXAD has an experienced and creative team, which is committed to providing best products and service for clients.
Qingdao Fu Xiao Power Equipment Co., Ltd. (QDFXPE for shot) is a manufacturer of power equipment and steel structure related products. including its subsidiary Qingdao Fuxiao Electric Power Engineering technology Co.Ltd. More than 200 professional technicians, equipped factory plant is over thirty thousand square meters, QDFXPE meets a variety of client's needs. With rich technology and exquisite craft, QDFXPE has reached an annual processing capacity of 30 thousand tons of steel structure. The company is located in Qingdao Jiaozhou Bay, 40km away from Qingdao International Airport and Qingdao port, 10km away from different super highway entrances. QDFXPE specializes in manufacturing of power station's body steel structure, flue, air duct, turbine auxiliary equipment and auxiliary boiler. Products are sold to more than 20 domestic provinces and cities, and exported to Japan, Thailand, Philippines, Indonesia, Iran and other countries, well praised by clients.
Qingdao Fu Xiao maintains a stable business relationship with a large number of famous domestic and foreign companies. Experienced more than 400 projects of steel structure's designing and manufacturing in power, metallurgy, chemical and architecture industry, QDFX has received a good reputation, and became one of the most well-known companies in the field of steel structure. Client list as following: Harbin Boiler Company Ltd, Beijing Babcock & Wilcox Beijing Company Ltd, Dongfang Electric Co., Ltd, China Huaneng Group, China Huadian Corporation, China Guodian Corporation, China Datang Corporation, East China Electric Power Design Institute Co., Ltd, NCPE, CPECC, ENERGY CHINA GEDI, Zhejiang Electric Power Design Institute Co., Ltd, Shandong Electric Power Engineering Consulting Institute Corp., Ltd, Qingdao East Steel Tower Stock Co., Ltd, Qingdao Sanlian Metal Structure Co., Ltd, Seventh Construction Corporation of CPECC, SEPCOIII Electric Power Construction Corporation. International Clients including Mitsubishi Heavy Industries Group and Hyundai Heavy Industries Co., Ltd.
As a member of boiler steel structure branch of China Steel Structure Association, Qingdao Fu Xiao has long-term research cooperation with many universities, such as Shandong University, Qingdao University of Technology, and Civil Aviation University of China. QDFX offers internship opportunities to young students from cooperative schools. Holding 5 national invention patents, QDFX is applying for the title of national high-tech enterprise. QDFX has annual employees training program, which is in order to update industrial knowledge and improve technical skills.